Tham Temple is 600 meters northwest of Cho Moi town. The temple bases on the foot of Quan Thung Mountain. The temple worships a woman general named Tham, who tremendously contributed to the war against Co Den enemy in the second half of the 19th century? The temple complex consists of main temple, Co Tham (Ms Tham) shrine and Son Than (mountain god) shrine. The temple has three rooms. Previously, the temple worshipped Son Than and Thuy Than (water-nymph). The temple was not repaired until the second half of the 19th century.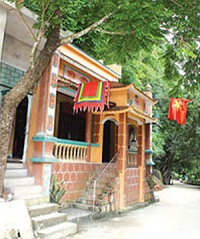 It is said that in the old days there was a beautiful girl who is a daughter of a poor fisherman. Her name was Tham. All young men in the region loved and wanted to get married with her. Unfortunately, a wicked feudal lord used his power to force her to become his wife. The lord was a henchman of the enemy. Ms Tham managed to get out of his house and called on a team of poor people to struggle against the enemy. Upon knowing that Ms Tham became a woman general, the feudal lord took enemy troops to fight her. A bloody batter occurred at the junction of Trang Co River. Ms Tham bravely directed her troop. Unfortunately, Ms Tham died by a toxic arrow. To commemorate a brave woman general, native peoples built a temple on the floor of her house to worship her. Since then, the temple has been called Tham.
On early days of the spring, Tham Temple opens a festival starting on the sixth of January on lunar calendar and closing on the sixth of April on lunar calendar. The festival attracts a large number of visitors.