Bac Lieu borders Hau Giang and Kien Giang Provinces . It was once a locality with a rich tradition of artistic performance and was one of the cradles of "Don ca tai tu", a folk performing form used in festivals, wedding ceremony or simply during moon-lit nights in the villages and hamlets.
Bac Lieu people are soft-hearted and have a great love for their country and native place. The song "Da co hoai lang" composed by Cao Van Lau is full of human love and exists forever in the hearts of all people, especially the natives of the Cuu Long River delta, wherever they are living.

The floating market is a typical cultural feature of Bac Lieu.
The typical image of the villages in Bac Lieu is interlacing alluvial canals with verdant water coconut trees. Bac Lieu people mainly use water-way transport. While sitting on a canoe or motor-boat visitors can enjoy a stream of fresh air over the canal, contemplate the vast sky and talk with simple and frank rural people.

Catching mussels along the coastline of Bac Lieu Town is a traditional occupation which helps many farmers escape poverty.
Bac Lieu is renowned for salt-making which has existed for a long time, supplying a large amount of salt for the Cuu Long River delta. Salt fields are divided into squares and rows, making a nice scene. Bac Lieu edible salt, which is known for good quality and is favoured by families, is exported to Japanese market.

In the suburbs of Bac Lieu Town, long-standing traditional craft villages
make woven bamboo items, which helps improve the life of the local farmers.
Bac Lieu also has many craft villages engaging in making woven bamboo products, weaving fishing nets and making fish sauce and soy sauce. Coming to this area, visitors will see artisans sitting under the shades of bamboo trees or plants to make woven products.
In the coastal villages the craft of making fishing-nets has developed to meet the fishermen's demand. It is a painstaking job because the firm nets are woven manually. Being once a wild forest area which was reclaimed in the early 19th century, Bac Lieu has a simple culinary style, with the dishes mainly being grilled or boiled.
There are many local delicious dishes, such as Mam kho hot pot with wild vegetables, sour eel hot pot, snake-head fish grilled in rice straws, braised fish served with pickled vegetables, peppery vermicelli and beef, rice pancake, fried anabas served with fish sauce and ginger, dried shrimp served with pickled scallion heads, lotus root salad with boiled shrimp, etc.
Weaving towels and mosquito nets has long been practised in Bac Lieu Town.
The products are much sought-after in the southern rural areas.
In particular, oysters, snails and mussels are abundant and cheap. The most delicious are dishes made from snake, tortoise, crab and oyster, which bear specific identities of Bac Lieu cuisine that no other places have.

Xiem Can Pagoda of the Kh'mer ethnic people was built in 1887.
The garden of old longan trees in Bac Lieu is the most renowned orchard in the Cuu Long River plain, attracting a lot of visitors. It covers about 230ha, stretching along a distance of 11km through Hiep Thanh and Vinh Trach Dong Communes of Bac Lieu Town.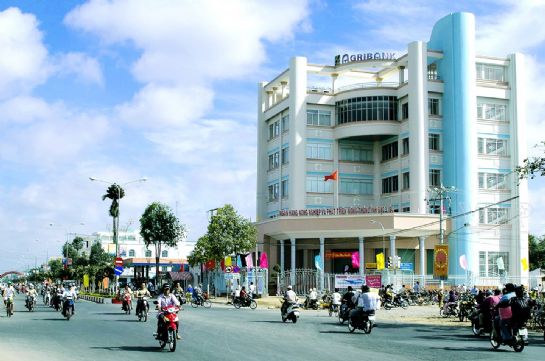 Streets in Bac Lieu Town are being upgraded.
According to the local people, Bac Lieu longan garden was established more than 100 years ago. Legend has it that Truong Hung was the first man to bring the longan strains of Su-bic and Tu-huyt from abroad to grow on the sandy land in Bac Lieu.

Drying fish at Bac Lieu wharf.
The Su-bic strain yields big fruit which has a thin skin, thick pulp, sweetness and lovely fragrance. The Tu-huyt strain yields small fruit which has a small pit, thick pulp and is sweet. Both strains have adapted to the soil and developed well, particularly the Su-bic strain which is much sought after. According to the estimation by longan growers, on average, each old longan tree yields 300-400kg of longan per crop.

The famous song "Da co hoai lang" composed by Cao Van Lau is much loved by Bac Lieu people and it is often performed by local amateur artists to entertain tourists.
If the price of longan increases to 8,000-10,000 VND per kilo, a household engaged in growing longan trees can earn tens of millions of VND a year, even some households can earn hundreds of millions of VND. To restore and preserve the old longan garden, Bac Lieu Town is coordinating with the tourism sector to work out a project on developing the longan garden for eco-tourism and cultural tourism purposes. In recent years many families in Hiep Thanh and Vinh Trach Dong Communes have reinvested in their longan gardens to open tourist sites.
Coming to Bac Lieu, visitors will be lured by this beautiful place and will remember the typical specialties of a southern watery area and have affection for the local people who are good-natured, honest and hospitable.