I-Resort Nha Trang, located 4 km from Nha Trang, is surrounded by high mountains and the winding Cai River that forms a beautiful scenic complex. The first impression of the resort is its Vietnamese traditional-style design with Nipa leaf roofed houses, ponds of water-lilies, stone walls and vegetable gardens. The resort, covering about 6ha, was built with a lounge, a family mineral mud bath area, an outdoor mineral mud bath area, a spa, a swimming pool and a restaurant.

The artificial mineral streams fascinate tourists.
The resort is well known for its mineral mud bath services which claim to have many advantages for health care, health treatment and beauty. Here, the mineral mud bath services are diversified, from popular to high-class. After having a mud bath, visitors can relax in the beautiful swimming pool with shade created by Nipa leafed eaves or enjoy services at the spa using Eastern and Western style therapies or try traditional foods at the resort's restaurant.
Tran Dang Quang, Executive Director of I-resort said: "We not only provide mineral mud bath services, but also focus on the convalescence demands of clients. By the end of 2012, we will have finished building bungalows on the hill near the Cai River to complete the resort to meet the demand of tourists."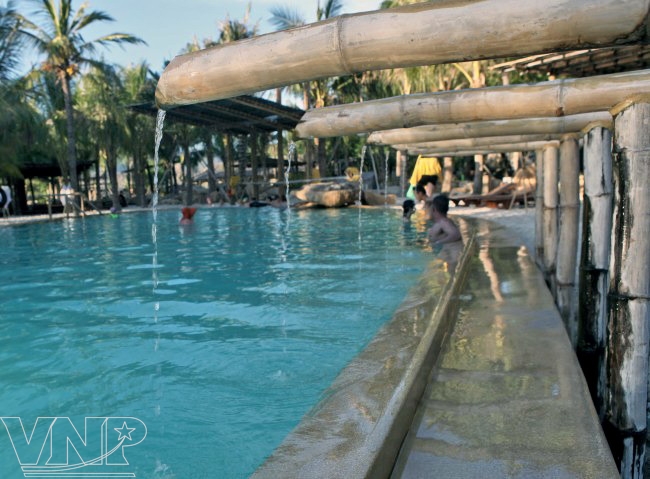 Water pipes made of bamboo trees help create a rustic space.
Part of the spa at I- Resort Nha Trang.


Relaxing in a mineral mud bath-tub.
Although, the resort was only put into operation a few moths ago, it has welcomed thousands of domestic and international visitors. It is expected that in the future the resort will have a considerable contribution to the development of Khanh Hoa Province's tourism sector.