I departed from the road from Prenn Pass through Truc Lam Zen Monastery, riding around Tuyen Lam Lake then upon the area. The windy and winding road is really interesting to conquer.
'Da Tien' (fairy rock) is two rocks in the shape of two male fairies playing chess. The greenness of the pine forest and grass-yards are dotted with some colorful wild flowers.
Tourists can hire a boat to take a cruise around the lake under the sunset to enjoy the romance and calmness of nature. To relax and put fun at the top of your agenda, travelers can hire a fishing rod at VND30,000 with bait to catch some fish for dinner.
For others who want to explore the forest and winding roads, they can hire an elephant at VND30,0000 per hour.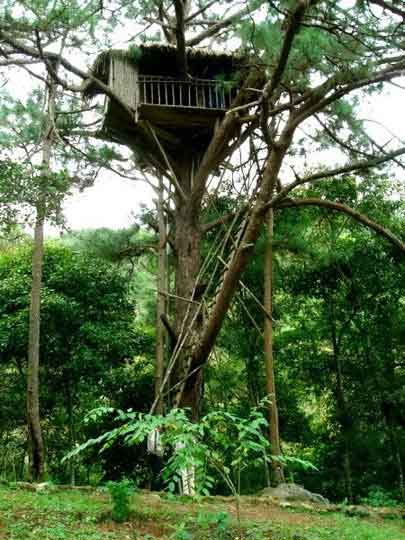 Tourists can stay overnight at a tree-house halfway up a giant tree.
After that you can enjoy some specialties in some long stilt traditional houses of Ede people with gong shows or chat with K'Ho people around the fire. All will make you ignore the darkness coming over the misty city and the chill of the wind.
The amazing thing is that tourists will be taken to a little wooden tree-house halfway up a giant tree to sleep in overnight.You might be a little apprehensive at first but it does have a toilet and bathroom. Lying in the house like a bird cage you will hear the whistles from the wind through the leaves and buzz of insects.
Early morning when you are awakened by the twitters of birds, you should take a visit to Voi Waterfall and stroll around the village to explore more of the ethnic culture there.